Elegant & Simple Weddings

See what we do:

Prices include our Ready-For-You wedding chapel, the wedding officiant, day-of coordinators & so much more:
Easy Marriage License with Valid I.D. / Fast Proof of Marriage
We can issue your confidential marriage license here at our wedding chapel if you have a valid I.D.



Health Insurance Benefits,  Social Security Benefits, 
U.S. Immigration Benefits, 
Mortgage & Housing Benefits,  Inheritance Benefits,  Banking & IRA Benefits,  Marital Tax Deductions,  Legal Decision-Making Benefits,  Paternity Child Benefits or Military Spousal Benefits*
Bonus Benefits: Inner-strength, purpose & joy.

Albertson Wedding Chapel in Los Angeles
Established in 1974.
About

Albertson Wedding Chapel
Albertson Wedding Chapel is considered by local Angelenos as the best chapel in Los Angeles (in terms of reviews, satisfied couples*, affordability, style, expertise, ease of services and longevity in business).  Albertson Wedding Chapel has offered meaningful, intimate wedding ceremonies daily since it opened in 1974.  It is a local family business spanning two generations. The chapel offers a wide array of pro services from photography, videography, fresh florals, concierge marriage license services and VIP micro wedding receptions. "The wedding ceremonies are fun, elegant events worth dressing up for…prepare for photos to be taken.  The value there is superb.  Prepare to save a significant amount of money."  from Trip Advisor.  
Avoid these 3 wedding planning mistakes:
Skip on those dated, cheesy Vegas wedding chapels. Marry locally in L.A. We are unlike any other wedding chapel in the world. Enjoy natural light, high ceilings and trendsetting wedding floral design. Make it safe for your guests too. We are located in a great easily accessible neighborhood with free parking.

3.  Giving up by marrying at the county clerk.

 Skip the shame and hassle of a basic government wedding.  Go VIP.  Make the event personal and meaningful. Walk down the aisle dressed to impress. Don't give up!  We can make this so easy & affordable for you when you choose our wedding chapel. Ask us how.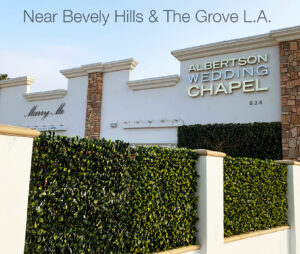 Historic & Modern.

This is our 48th year in L.A.

"When couples get married here, they stay married." We love that quote from a couple married here in the 1980s.

No one else can compare to your fiancé.  And no other wedding chapel compares to Us.  Albertson Wedding Chapel is celebrating 48 years of being the most trusted & loved wedding chapel in Los Angeles.