The greatest gift is Love. Marry from $269
Los Angeles since 1974
Near Beverly Hills, The Grove
& Hollywood
Forget Vegas
Marry Today in L.A.
 Albertson Wedding Chapel in Los Angeles is operated by a team of wedding specialists, trend setters and true romantics.  Our goal is for your wedding ceremony to be fun and easy to plan.  At Albertson Wedding Chapel, we keep our wedding prices down-to-earth and affordable for you in our gorgeous intimate wedding venue.
Same day marriage license with a valid I.D. or passport
Skip the boring lines at the county clerk and dreary public courthouse.  We provide the California state marriage license on the day of, as well as usable legal proof of marriage instantly.  Questions about getting married in Los Angeles?  Visit our Albertson Wedding Chapel FAQ page to see the requirements for obtaining a California marriage license.  We perform civil wedding ceremonies and vow renewals daily in our completely affordable wedding venue.  Our team of wedding coordinators make getting married at our chapel stress free. 
Tourists Welcomed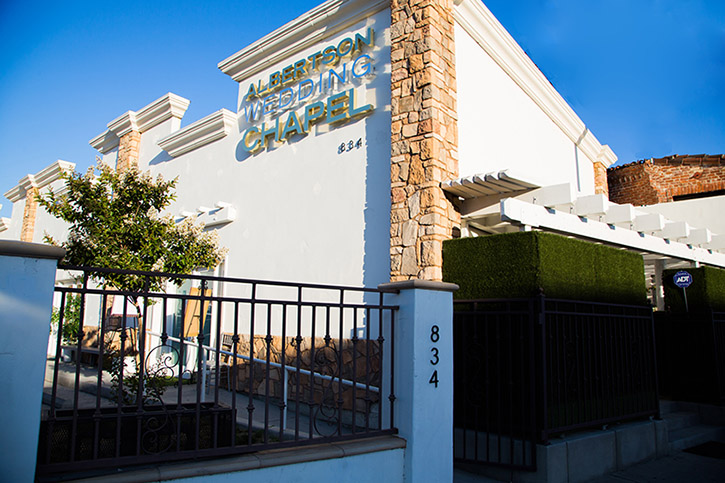 No one else can compare to your fiancé.  And no other wedding chapel compares to Us.  Albertson Wedding Chapel will be celebrating 45 years of being the most loved and trusted wedding venue in Los Angeles since 1974.  NEW! We now offer wedding reception options at our gorgeous intimate venue!