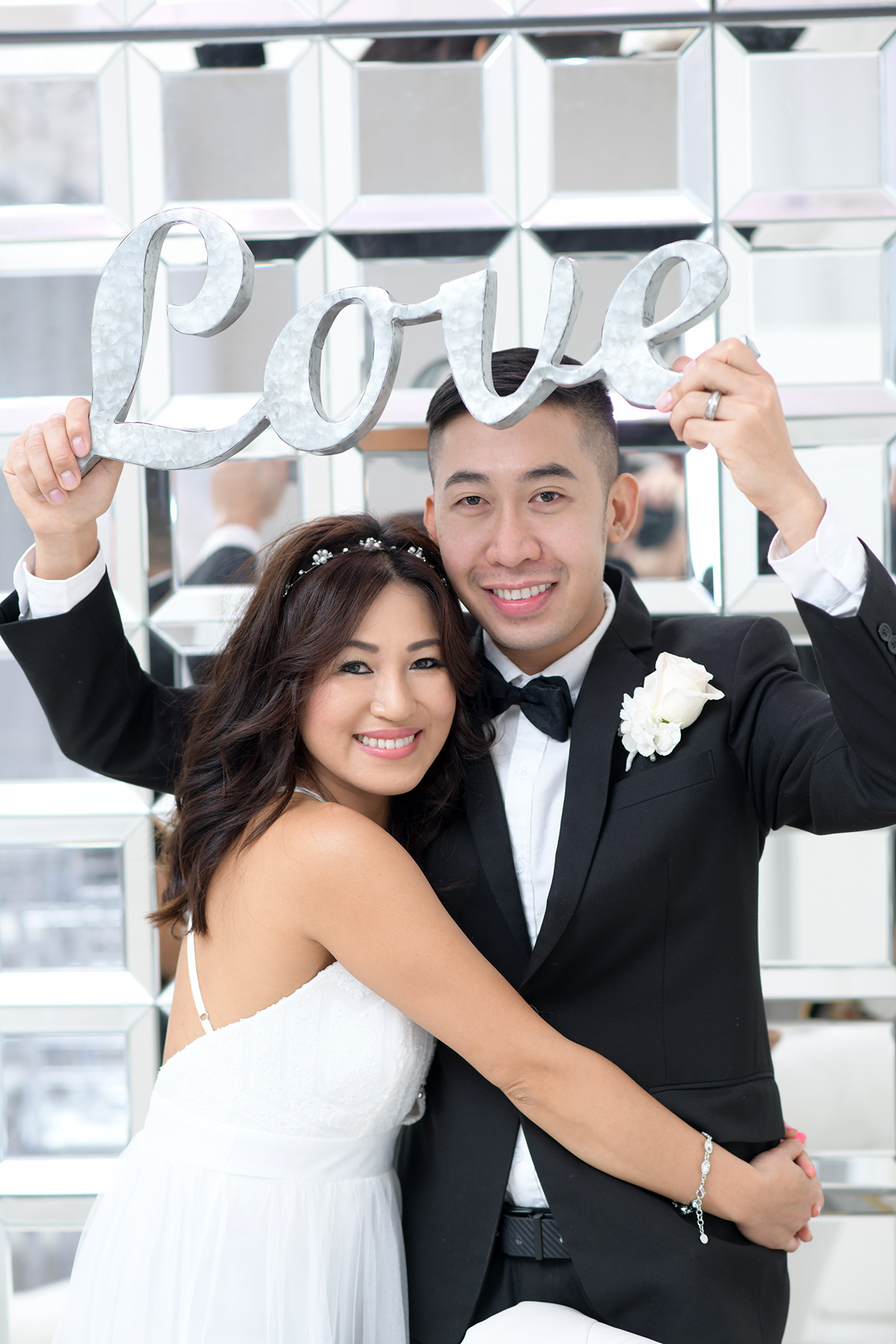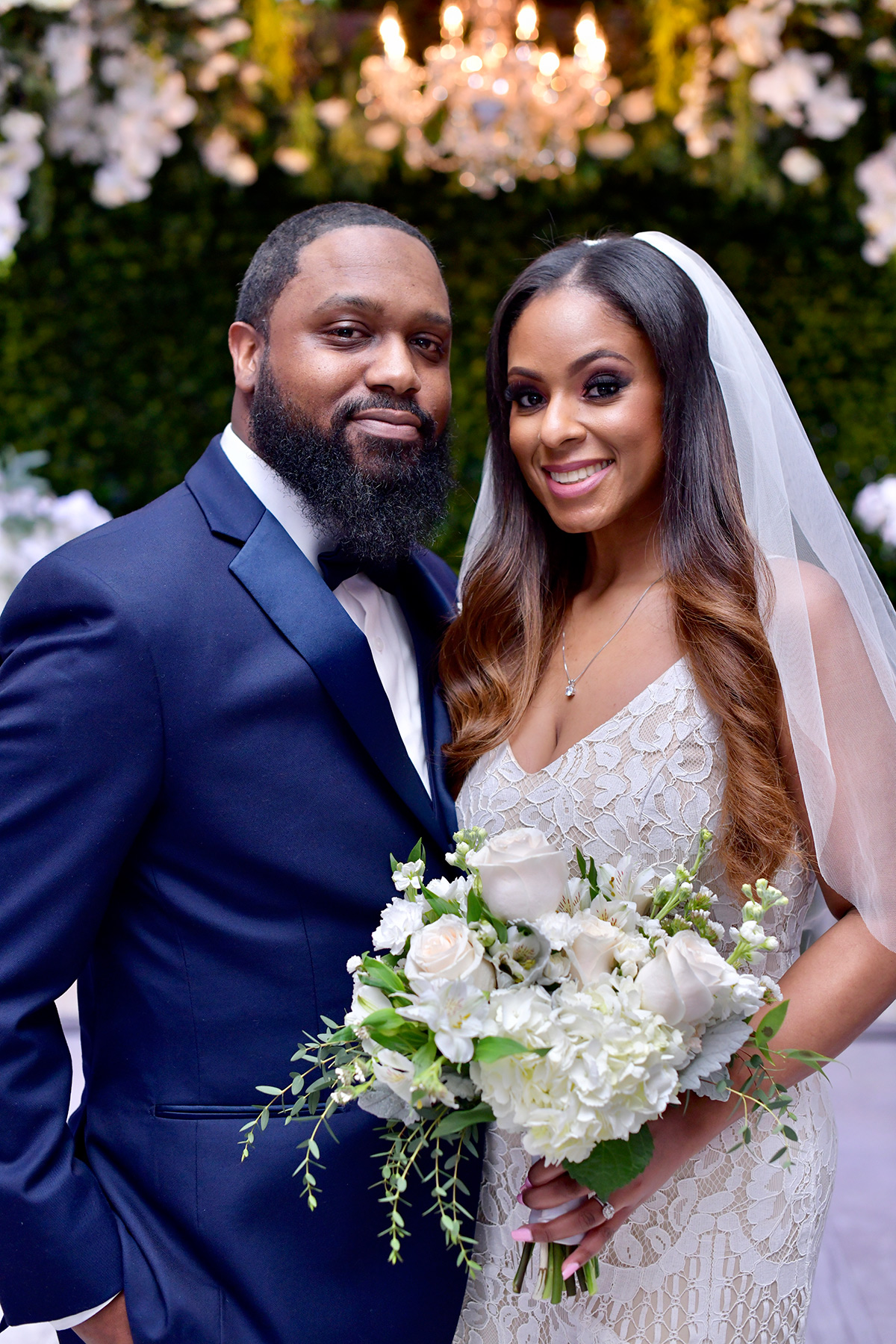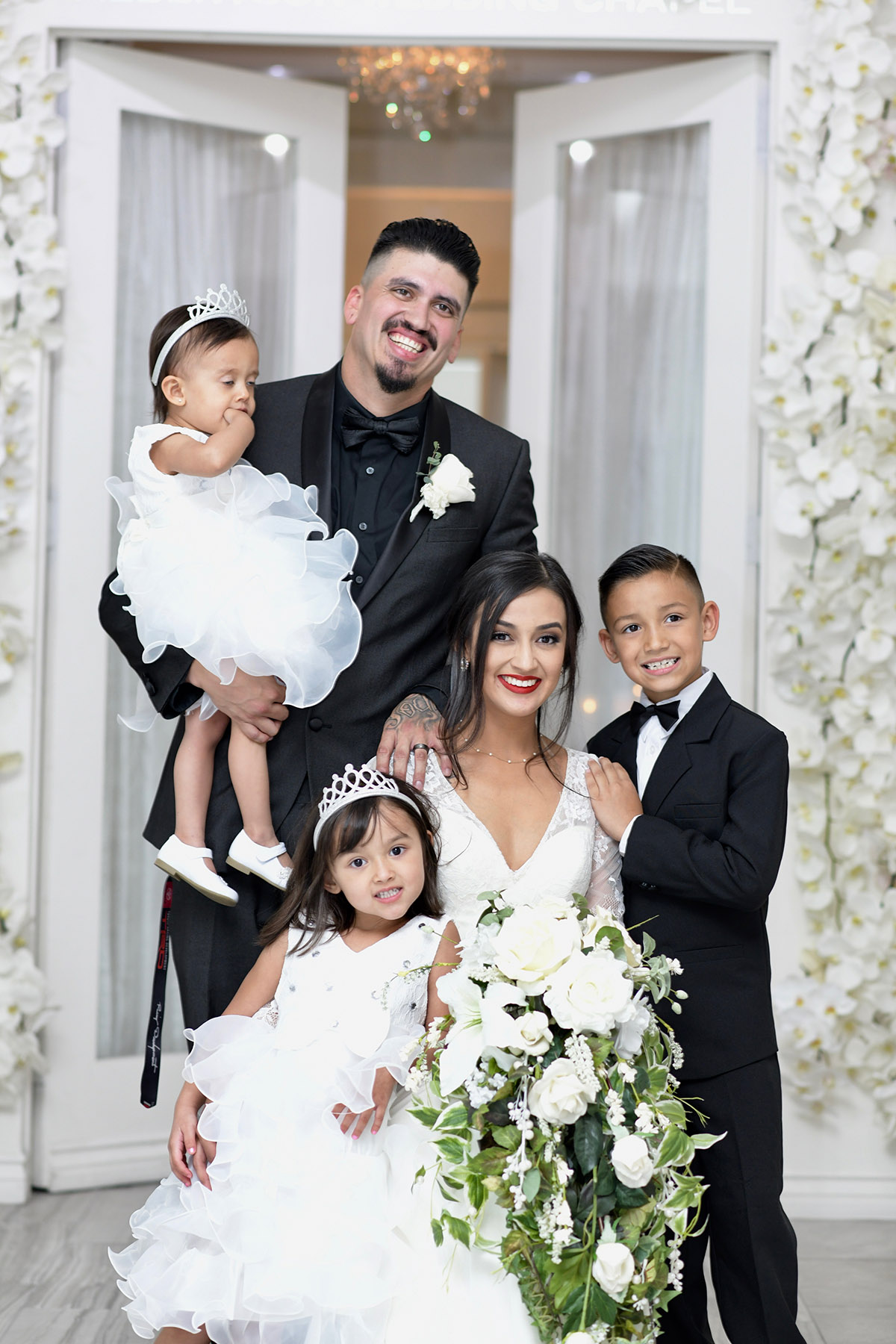 *Although we are a wedding chapel and not a church, you can request a Christian or Catholic style wedding ceremony.
 Hear a wonderful message on the subject of marriage, love, fidelity and the role of God in your married life. It differs from the civil ceremony which would have no mention of God or the word "Holy" as in "Holy Matrimony". The point of view of a Christian wedding ceremony is that God chose you to be together and brought you together specifically to be married; that it is his plan fulfilled. It is an uplifting and inspirational Christian wedding ceremony with prayers and blessings.
Prices include:
• Luxurious Wedding Chapel
Natural light, high ceilings, beautifully designed with luscious florals, greens, silver metallics & crystal. Trendy Neighborhood.
• Pro Wedding Officiant or Minister (Yes! Included)
A meaningful wedding ceremony (civil/non-religious or spiritual by request) performed in person (w/social dist.) Or bring your own officiant OK (masked)
English or Spanish
• Stylish Flower Decor
Decor included. Save thousands.  We're the only wedding chapel in L.A. worth dressing up for.
• Color Lighting by HUE
Themes:
Natural light

,
lavender mist,
blush,
twilight,
pink,

red skies



• Romantic Candlelight
For Ceremonies booked after 6pm
• Private Bridal Room
(Currently, we suggest you arrive already dressed. The bridal room is an "enclosed space" and is not recommended for use during Covid-19.)
• Wedding March
Walk down the aisle in style
• FREE HD WEBCAM by NEST upon request
With our Livestream link your family can watch you marry from anywhere or set up your own devices for zoom or facetime for a tighter shot.



FREE Masks and Gloves
We do provide 2 light blue black surgical mask (for the ceremony) and 4 gloves for the couple (for the signatures) .
• FREE Parking
Yay! We are the only wedding chapel in L.A. with free parking options.



Chapel Rates:
Monday thru Friday*
Saturdays & Sundays

$439 / 1 witness

$489 /  Up to 4 household members (masked).  
Call Us or Text Us to book a weekend > 
Once gathering restrictions are relaxed you can upgrade to higher guest counts.
(Approx return date 11/29/20)
 $549 / 5 to 6 guests (masked)
(Approx return date 1/19/20)
$589 / 7 to 10 guests (masked))
(Approx return date 3/21/21)
$689 / 11 to 24 guests
 Infants do not count as guests.
Visit our New True Love wedding Chapel next door for even more affordable pricing. Or try our contactless, drive-through service:

License Fees:
Add Legal Marriage License $85  (County Clerk Charge)
As Notary Publics, we can issue your confidential marriage license instantly to you at our wedding chapel. You must present a valid form of identification such as: Non-expired Driver's License, State I.D., Passport, Military I.D., Matricula Consular Card  or an official government I.D. from your country.  Or skip this fee by bringing in your own marriage license OK.
Notary Public Legal Fees $45
There is a total of $45 in fees from a Notary Public to issue/stamp the license (Includes 3 x $15 notary stamp fees for: license, copy and certificate of identity). This way you can skip the long lines at the registrar recorder/county clerk. Or skip this fee buy bringing in your own marriage license Ok.
Marriage is legally binding & all payments
made are Non-Refundable.
• Worry-free booking guarantee •
Push your wedding back up to 12 months for full credit of payments made.



Clear, honest pricing.  Applicable taxes already included.



 50% minimum, non-refundable deposit required to book with balance due at least 3 weeks before the wedding.

 

Save 3% if you book at least 3 months in advance, paid in full at booking. Save 5% if you book 6 months in advance in full. Save 10% for at least 12 months in advance, paid in full. Military discount 5%. 
All offers can not be combined.  
This is a wonderful Catholic style wedding ceremony that will please and inspire you and your family. The ceremony is a bit longer than a civil wedding ceremony and it is a lot more formal and serious.  This ceremony is especially tailored to Latino and Filipino wedding traditions. You may bring primary and secondary sponsors for your Arras ( coins ) , Lasso (chord ) and Unity Candle.  Since it is taking place at our wedding chapel, you do not need to have had your first communion or confirmation completed.  6 months of seminars prior to the wedding are also not required.  This a wonderful idea for a Sunday wedding before Sunday Brunch.